The Possibilities: There's you... there's me... and then there's the wood.
The third partner in any conversation is always the wood that we have to work with. Because we mill our own timbers, we have an abundance of high personality wood pieces hanging around, just waiting for the perfect application. So many times, the wood itself will suggest a design that I could never come up with on my own. There's a lot of satisfaction in marrying the right piece with the right project.
My shop keeps Ohia slabs, Mango slabs, Mahogany slabs. Mahogany root base. Cinnamon, aromatic Cedar, Opiuma, Wenge slab.
Sugi thin boards...as well as many other specialty woods on hand.
The Process... getting the most from Koa
My preference is to work with wood that I have harvested myself. A wide variety of the more familiar hardwoods of the world are locally available however, so virtually any species would be available on request.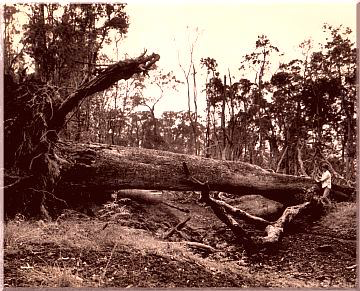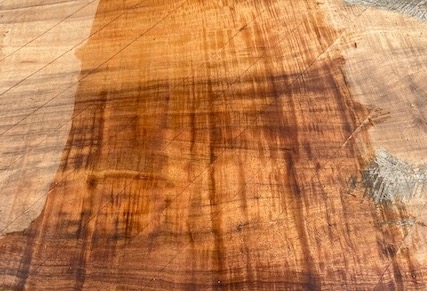 Koa wood varies dramatically in color and variation of grain. The principal advantage to running a sawmill is the availability of sequence matched lumber, which is used to produce the finest furniture available. Mango also is wildly divergent in its grain and figure. The samples below are intended to show the range of possibilities in employing these woods.
When working with species like Oak or Mahogany, it is easy to superimpose a concept over the material, as the results will be quite uniform. But when working with the dramatic grain found in our Koa and Mango, it is best to let the wood contribute to the overall design of the piece. For instance, it would be a shame to cut up matched wood suitable for a table top to make a set of chairs. Whenever we plane a new load of wood and see its grain revealed, it is then that I make the decision as to what will be built next. Being able to match appropriate wood to the project at hand makes all the effort expended in logging worthwhile.
Koa Furniture Construction Techniques
Wood is a material that is always alive. Woodworking techniques have evolved over the centuries to ensure that wood creations will endure. The art of woodworking is, ultimately, to match technique with purpose, to create pieces that will last for many generations. In my shop, we use every trick in the books and keep learning and inventing more while keeping in mind the physical laws that govern wood movement. The result is that we are able to produce pieces that we can ship worldwide with the full confidence that they will perform satisfactorally.
Pieces are finished, inside and out, top and bottom, both as a point of pride, and also to ensure wood stability. I normally use a low sheen catalyzed lacquer which is carefully rubbed out with steel wool and burnished with a high quality furniture wax. This produces an extremely durable finish that allows the beauty of the wood to shine through, and is a delight to touch.
Currently Available Wood!
We are so lucky to live in a place with such wonderful woods. We have a great selection of large slabs waiting to become once in a lifetime tables. We have too many slabs to list, Koa, Mango, monkeypod, Silver oak, Avocado, are all possible. Here are just a few pictures that might inspire a new piece. Final cost will depend on table design.
---
Haleakala Ranch Koa Slabs
Old growth koa slabs are extremely rare and highly prized. I have one left of a pair of slabs that came from Maui, the result of a fallen tree on Haleakala Ranch. They came to us when a woodworker there retired and wanted to get them into good hands. The table pictured below was the first slab used. 46 x 10.5' x 2.5" thick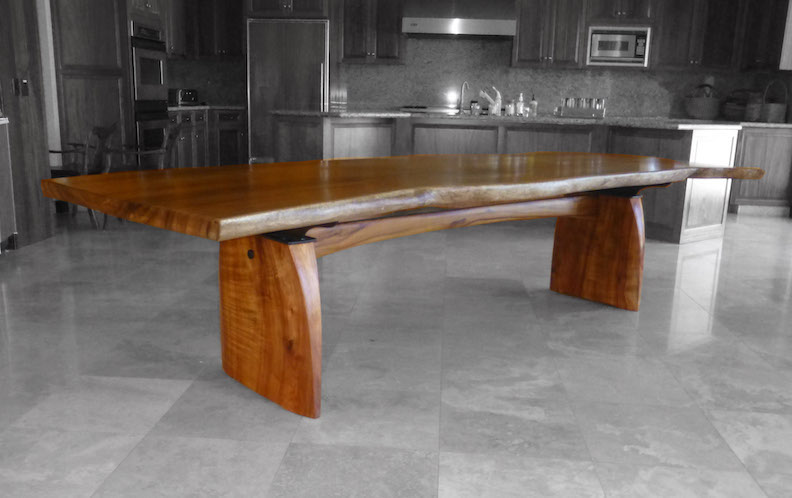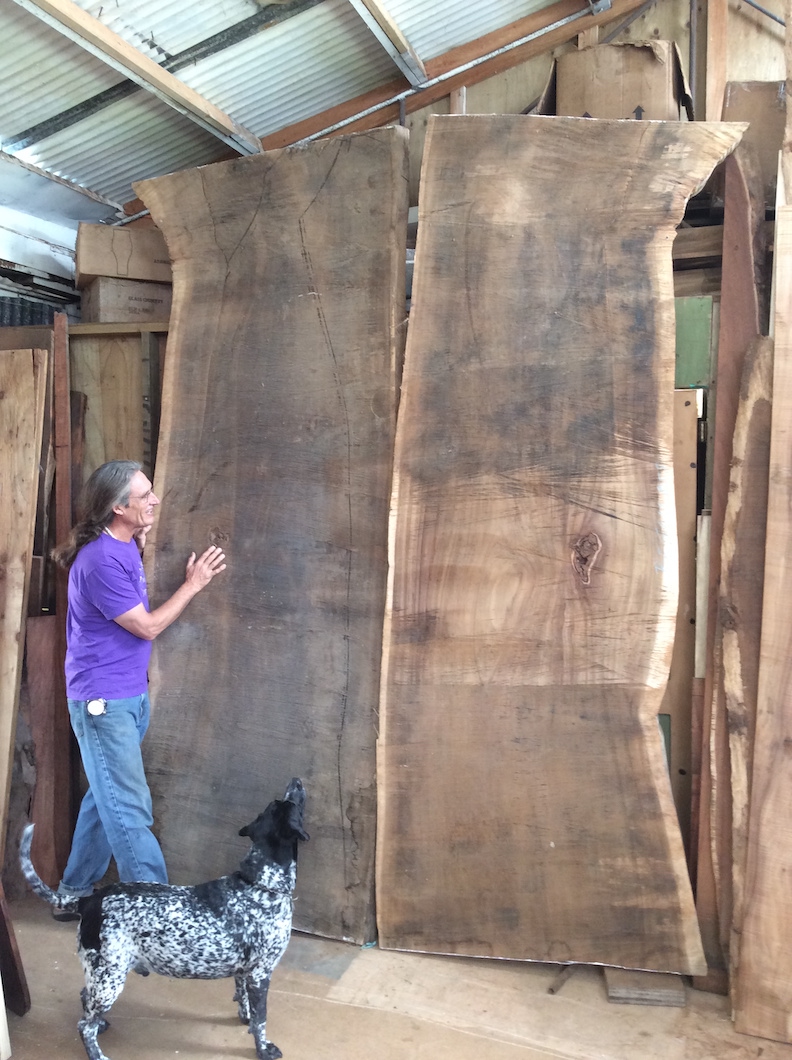 ---
Honomolino Koa
This slab came from Honomolino in South Kona. Its a beautiful darker Koa with deep curl and figure. The second picture is a small "window" planed into the rough wood to show the grain. It is almost 12' long!!!!! 48 x 33 x 141long and 2.5" thick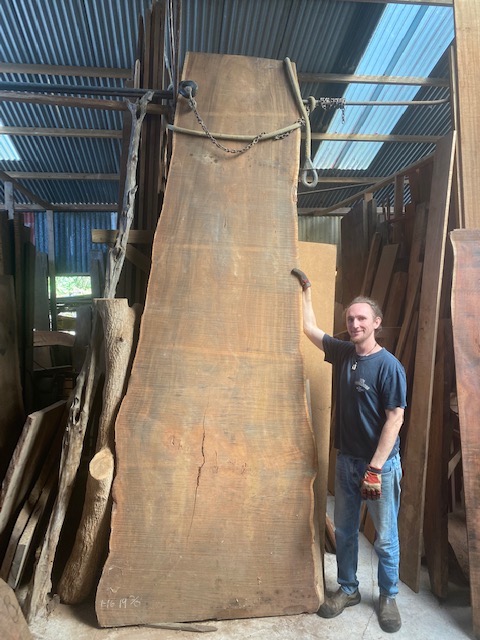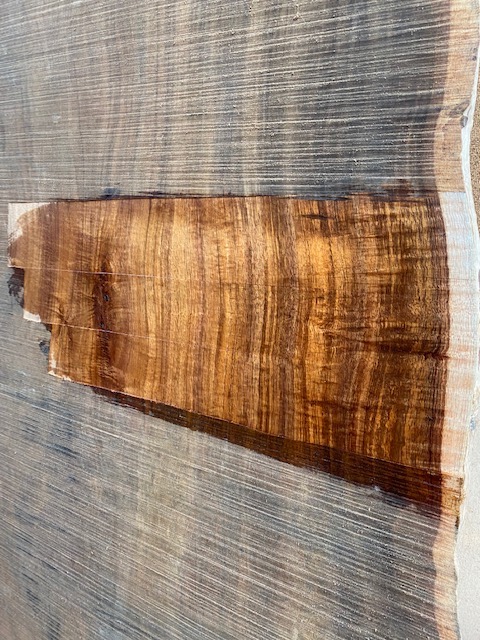 ---
---
Kealakekua Koa
This slab came from a stash of wood cut many years ago on Kealekekua Ranch in Kona. It is lighter Koa and has very nice figure and curl. It measures 42 x 99 x 2.5" thick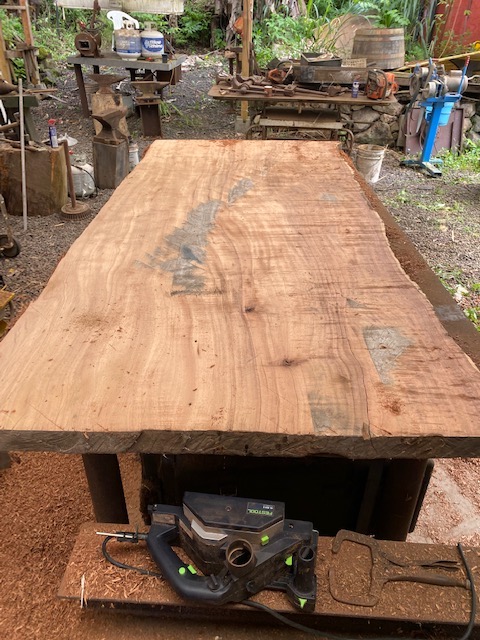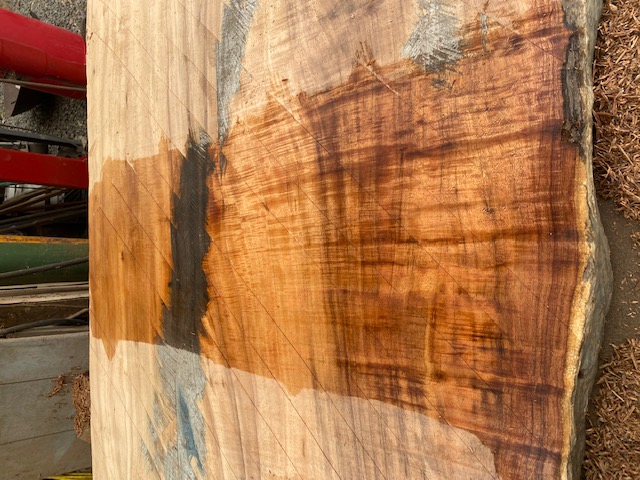 ---
---
Walnut Slab
This is a very unusual find in Hawai'i. A walnut slab was brought over for a project here and a change in plans made it available again. This would make a very unique dining table or it would be spectacular as a coffee or entry centerpiece. The center of the slab is exquisite flame pattern curl and the deep tones of the walnut are spectacular. It Measures 67 wide at base, 39 at the top, and is 86" long x 2.25" thick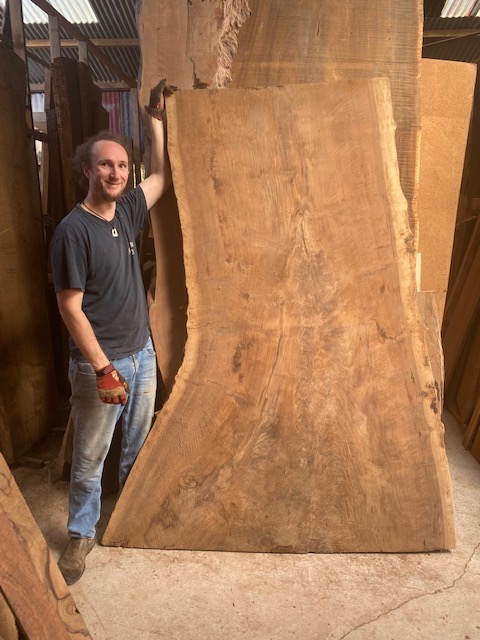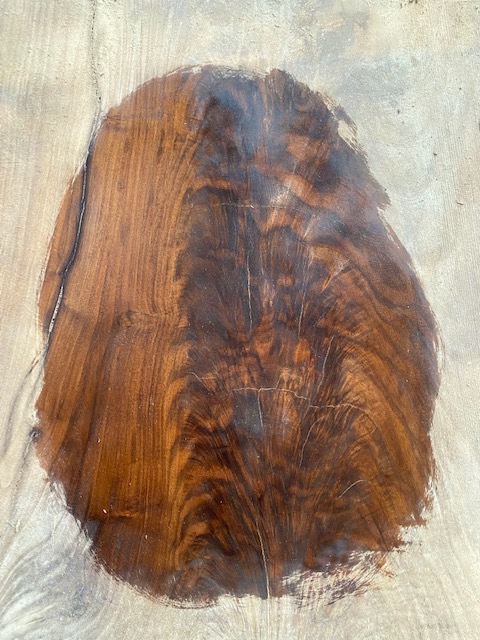 ---
---