Koa Forestry on the island of Hawaii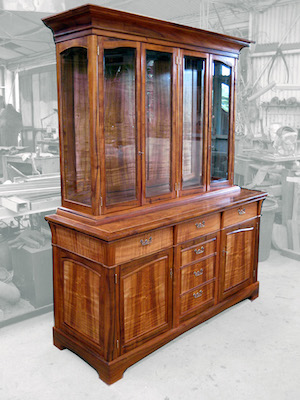 A fully equipped shop is like a dream factory, and just stepping inside gives one the feeling of great potential. It is a generous space, and visiting artists will take a bench from time to time, inspiring some great collaborative adventures. What goes on in the shop, however, comes at the end of a whole process that begins in the forest.
For Many years I helped to manage a forestry project here in Kona. Most of the koa forest land in Kona has been used for cattle grazing for over 100 years. Because cattle devour the young seedlings, these forests are in their last stages of decline: tragic, because these are cloud forests, and without a healthy canopy of leaves, the trees lose the ability to collect the moisture they need to grow and regenerate. Even without the cattle, invasive vines are choking out new growth, making the future of unmanaged lands quite bleak. Our project reviewed the options left to us and came up with a plan that used the profits from lumber salvaged from dying and downed trees to fence the land and allow the re-growth of the forest. Cattle were allowed in the area on a periodic basis when the new trees were tall enough to be unaffected, in order to control the choking undergrowth. By keeping the lumber profits with the land instead of just wholesaling the raw wood away, we established a viable demonstration project that generated enough profit to keep ranches safe from development pressures.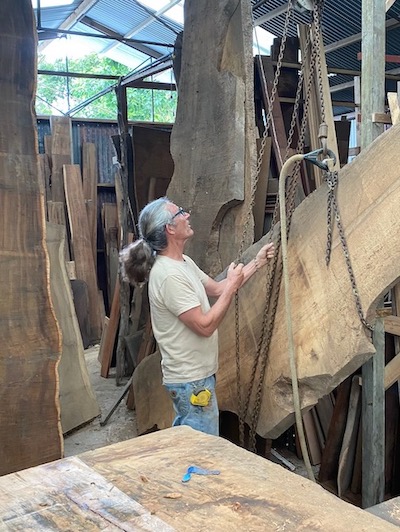 The best way to maximize the value of the wood is to treat each salvaged log very carefully and to cut it to its best advantage. This requires close cooperation between the logger, sawyer, and the end user, the craftsman. As a designer and furniture maker, I can often visualize a piece while it is still in the log. This is important because, for instance, there may be only one perfect table top in an entire tree. Unaware handling can reduce that tree to very average stock or worse, or, an heirloom could be born with the right handling. There is no substitute for being there when that tree is on the mill. The production of the final masterpiece really begins long before the wood ever sees a shop.
It is our hope that this management model becomes the norm for wood harvesting here in Hawai'i. We were once at a point where continued conflicting human interests would mean the death of a great ecosystem, but a much brighter future has emerged, with koa trees being planted by the thousand and land use policies recognizing the value of native forests My involvement with the koa forest has led to involvement with urban forestry, as well.
Trees are always coming down and I've always felt it was a crime not to make use of the lumber. One of my greatest pleasures is to find material in trees slated for removal. We have huge mango trees here, and they are often simply dozed out of the way. Mango wood is truly gorgeous, and appreciation is gaining for it, but woods are like fashion, and a large part of my challenge is to get people to see what they've been throwing away. We have an unbelievable variety of trees here in Hawai'i, and real showpieces are being made from wood you've probably never heard of. The Hawaii Forestry Association sponsors an annual show to highlight some of these lesser-known woods in an effort to get people to plant more.
The process I've described here is very important to me. It has resulted in being able to work with an awesome supply of wood, while staying connected to the source and providing for the future of this wonderful resource.